Polyamory
Dating Page


POLY DATER'S BILL OF RIGHTS by Jennifer Jammon
POLY QUESTIONNAIRE - Great Tool To Combine With A Poly Personal Ad




PERSONAL AD BASICS

S=SINGLE
W=WHITE
HET=HETEROSEXUAL
M=MARRIED
B=BLACK
BI=BISEXUAL
C=COUPLE
A=ASIAN
G=GAY
W=WIDOWED
H=HISPANIC
BICURIOUS=BISEXUAL INTEREST
D=DIVORCED
F=FEMALE
M=MALE
P=PAGAN
J=JEWISH
CH=CHRISTIAN
ISO=IN SEARCH OF


FORMAT BASICS
(ONLY SUGGESTIONS)

I. PERSONAL IDENTIFYING INFORMATION:

A) YOUR AGE,
B) YOUR DIMENSIONS
C) YOUR ETHNICITY,
D) YOUR SEX,
E) SEXUAL ORIENTATION,
F) YOUR TALENTS AND HOBBIES,
G) YOUR POLY STATUS,
H) KINKS,
I) DIET (VEGETARIAN, OMNIVORE, CARNIVORE),
J) OTHER STUFF



II. IDENTIFY QUALITIES IN OTHERS THAT YOU'RE LOOKING FOR:

A) BE CLEAR ABOUT WHAT YOU WANT AND WHAT YOU DON'T WANT

1. Turn-ons:
2. Turn-offs:

B) BE HONEST, BRIEF AND TO THE POINT

C) REMEMBER: THE MORE VAGUE YOUR AD IS THE MORE INQUIRIES YOU WILL RECEIVE, ALTHOUGH THEY ARE LESS LIKELY TO BE SUITED TO YOUR INTEREST THAN A SPECIFIC AD...
Poly Personals Web Page Links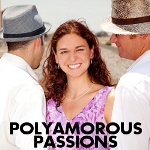 Polyamorous Dating and Personals
Social Networking & Chat
Poly Personals Newsgroups
alt.personals.poly
alt.personals.bi
Bi Dating/Personals

Comments or Submissions