POLYAMORY SPIRITUAL NETWORK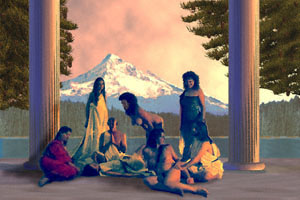 Copyright ©1997 by Lev Koszegi. All rights reserved.
There are many open and welcoming spiritual communities that Polyamorists and PolyFamilies are affiliated with. This list is not complete by any stretch of the imagination. This unofficial list will continue to grow as Polyamory becomes mainstream. Please be aware that the Society is not endorsing or sanctioning any of these spiritual community links. We are merely trying to provide the Polyamory Community with a list of spiritual communities that other Polys have found as a spiritual sanctuary and guidance in their past experience.

Poly's Beware: All spiritual communities should be thoroughly investigated and multiple members of their leadership should be questioned on their communities official and unofficial position on Polyamory before investing your time, money and spiritual soul. Also note that even in openly aligned spiritual communities with the Polyamory Movement there have been known to be local autonomous affiliated groups that have displayed intolerance, bigotry, open hostility and contempt towards Polyamory. If you have had problems with one or more these listed groups including any one of their local affiliates. Please report it to us so that we may pass on a Polyactivist Alert to others in the Spiritual Network.
SPIRITUAL POLYAMORY "Love Of All" Read by Author Mystic Life
Church of the Four Quarters ATC
The First Unitarian Church of Honolulu
Church of All Worlds
Circle Sanctuary
The Pagan Federation on the Web
Unitarian Universalists For Polyamory Awareness
Unitarian Unversalist Association
The Ethical Society
The First Church of Polyamory
The American Humanist Association
The Association of Secular Humanism
Liberated Christians
The World Union of Deists
The Agnostic Church
The Church of Tantra

Comments and Submissions